Details
Product Details
Espera Nova ES-R - Fully Automatic High-Speed Weigh Price Labeling - Up to 140 Packs Per Minute

The Espera Nova ES-R delivers innovative productivity enhancements unmatched in the packaging industry. No one else can deliver the innovative performance and maintenance software, washdown hardware, expert service and value of the Espera Nova ES-R weigh price labeling solution from UltraSource.

Advanced Machine Software - Think4Industry™
With the simple touch on the screen the Espera Nova ES-R allows you to quickly select where you want labels placed, leading or trailing edge, highest or lowest, point, etc. The Espera Nova ES-R software offers powerful features and is designed for intuitive use, comparable to smartphone for an easy operation.

- Intuitive menu setting
- Individual screen customizing
- Individual user level settings
- Machine status control unit for easy failure detection
- Web based version for machine control on seperate devices such as smartphones or tablets

Industry Leading Label Applicators - "Switch & Go"
Every product requires its individual treatment. Labeling of sensitive products in flow pack packages, such as strawberries, require a different application technology than what a company might use for meat products in tray packaging. To meet demands of the fresh food industry Espera created a fully new appplicator technology callled "Switch & Go". The dynamic system allows companies to select out of 3 different application systems to best meet product requirements.

Contact-Pendular Applicator for high speed requirements

- Path controlled pendular movement
- High speed
- Label accuracy +/- 1 mm
- Automatic height compensation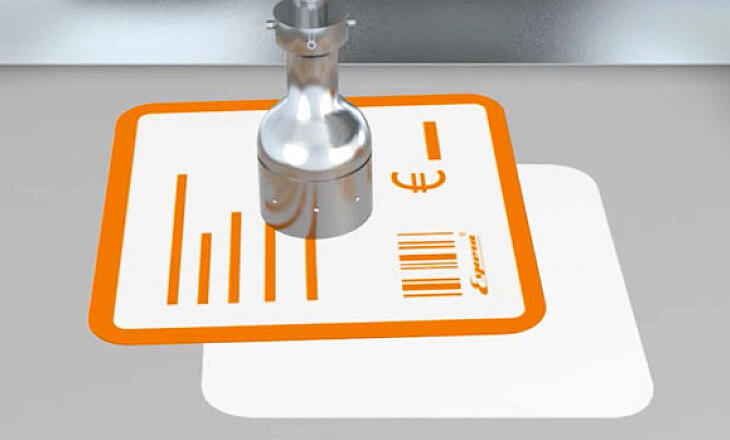 Blow-Pendular Appllicator for high speed requirements and sensitive products
- Path controlled pendular movement
- High-Speed
- Label accuracy +/- 1 mm
- Automatic height compensation
- Air blow for label application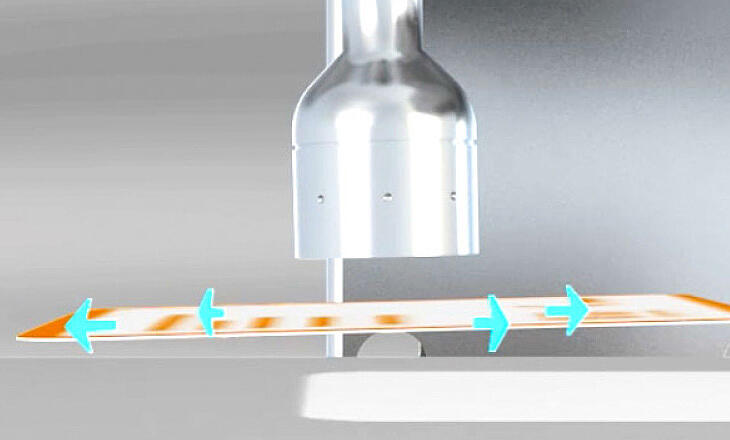 Sensitive products can be labeled smoothly with an air blow label applicator. But don´t forget to consider the accuracy of the label placement. Conventional manufacturers offer air blow label applications directly from the printing unit. However, to do this, this, the labels are blown from a large distance, the very top position of the printer to the product packages. Often the label has to be blown a distance of 100-150 mm just by a conventional air blow. The reult is, that the label ends up everywhere but not correctly on the package.

The Espera Nova ES-R blow pendular applicator moves downwoard with the label from the printer to just 8-10 mm above the package. The applicator blows air smoothly and in a perfect label position. The innovative Espera Nova design avoids wrong label placement or no label placement and is unmatched by any conventional air blow label applicators.

Contact-Linear Applicator
Path-controlled linear movement Highest accuracy Individual label rotation Automatic height compensation Especially recommended for medium speed requirements

Maximize Quality and Minimize Downtime - SmartHead
The Espera Nova ES-R is equipped with an advanced thermal head that feeds visual software with realtime information about the quality and remaining runtime life of the head. With the realtime information and visual software, it is intuitive and easy to make adjustments to maximize the quality of thermal head prints and the runtime life of the thermal head. This means more and higher quality outputs, less down time and more predictable maintenance schedules.

- Realtime information about reemaining runtime of a thermal head
- Realtime information about defect dots / destoyed dots on a thermal head
- Realtime label visualisation to control the printing quality
- Messaging system in case of loss of printing quality
Ideal Label Placement - 3D Camera
The Espera Nova ES-R weigh price labeler is available with 3D camera system for package topography mapping. The 3D cam creates a horizontal and vertical package and product image within milliseconds. The perfect labeling position is automatic calculated by the machine software in realtime for up to 140 packs / minute. Plus packaging data are automatically stored within the packaging program, which helps the production team save time and avoid errors.
Predictive Maintenance
The Espera Nova ES-R system provides realtime information about all relevant machine components and their remaining lifetime.The system will automatically update companies about the perfect timing for exchange of machine components. This enables you to plan your maintenane processes efficiently and avoids unexpected downtime due to suprise component breakdown. The system will also detect and alert you to anomalies. When anomalies are identified, Espera will provide recommended machine settings your production and maintenance teams to quickly address them.

No one can offer the innovative weigh price labeling features, service, and value as the Espera Nova ES-R. Speak to a weigh price labeling specialist today. Contact Matt Busenbark at 816-360-2071 or Sam Thompson at 816-360-2016. Or complete the contact us form.

Features
- Water protection Protect + with IP X5
- Pendular Applicator for an exact label placement and highest speed
- Think4Industry machine software
- SmartHead – digital status control of the thermal bar
- Online Remote-Service
- Patented fast change of label roll functionality

Options
- Automatic and manual printer adjustment available
- Automatic and manual product guides available
- 3D Cam for automatic package recognition
- Thermal Transfer
- Linear Applicator System

Specifications